Its been way too long since I have done any updates on my home. Its probably because I am busy paying vet bills. The De-brassing movement has turned into my number one focus as it is something I can probably tackle on my own. Sounds easy enough to remove all the ugly hinge and replace them with new pretty ones, right?
The first thing we did to the home was the front door handle on move in day. It had to be changed. We almost never even viewed the home as our realtor couldn't open the front door. What would our lives be like and where would we be living if we hadn't insisted on getting into this home?
Move in day 2011
As O would say "Working like a man"
When we moved into the house we noticed that every door knob was different. All brass of course. They were all keyed locks. I am serious, bedrooms and bathrooms alike you need a key to enter and of course we didn't have keys for any of them. So first trip to Lowes we got 10 new knobs and installed them. So now we don't have to worry about getting locked out of our own bedroom but we have to worry about the hideous hinges.
Left closet, right laundry room.
You will notice the mis-matched knob and hinge
Plans are to get matching hinges. But just imagine how many that will be!? Yikes.
Here is a before picture of the brass that is taking over my home currently.
Kitchen cabinet
Up close and personal with hinges.
Right-Linen closet left guest bath.

The master plan for the bare cabinets is to get knobs and pulls for them and replace the hinges with matchy ones.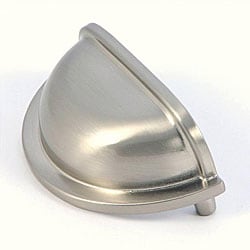 For the drawers
For the cabinets

We are thinking that these will go well with the stainless appliances we have. Again, I am looking for a more polished look. Right now we basically have a generic kitchen and it needs more personality.
Dark picture of the kitchen
Other side of kitchen
Imagine updated hardware, crown molding, new counter tops and back splash. Ahh the possibilities. I am thinking white subway tile. I like the contrast with the darker cabinets.
I like the open cabinet/ shelving but hubby disagrees

For awhile I liked the idea of bead board back splash
I found this on The Lettered Cottage and loved it. Hubby's not so into it. We are adding white bead board on the living room side of the island and he thinks it will be too much. It was worth a shot.
For counter tops we figured that removing the tile that was improperly installed by the last owner would only be a loss of about 50 dollars. I'll take it for something nicer and done well. YHL installed beautiful Corian, we are thinking of going for something darker.
WHen we first bought the house I googled our address and found pictures of the first kitchen. It was white tile and white appliance. I used zillow and found houses in the same area with pictures of the kitchen so, this is what our kitchen must have looked like before
I have an ugly white sink that holds stains like no other
I am dreaming of a stainless undermount when we get the new counter tops. Something deeper than 8in.
Like this one from plumberssurplus.com
. And of course a new faucet. This particular one has caught my eye. Those buttons underneath the nozzle? High and low flow. Perfectly good for the environment.
Alas, these are all dreams for the future. One night hubby and I sat down and made a realistic list of "Home-To-Do"
So you will notice I will not be getting these things in the near future. Savings is the key for making my dreams come true.